Are you looking for the best outfit to wear while kayaking? You have come to the right place. With this guide, you'll be ready to take on the waters in comfort and style.
Whether you're a beginner or an experienced kayaker, we've put together the perfect wardrobe essentials that provide breathability and protection from the elements. So get ready to explore with confidence! Kayaking is an enjoyable activity that requires the right gear. When dressing for a kayaking session, it is important to understand the environmental conditions you will be facing and the proper clothing that can keep you safe and comfortable. It is also important to take into consideration the type of kayaking you plan to do — recreational paddling or white-water rapids — as this will determine what kind of clothing and accessories are necessary.
This guide will provide you with a thorough introduction to kayaker attire so you know what to wear when venturing out on the water.
Types of Kayaking
Kayaking can take many forms, from recreational paddling to white-water rafting and surfing. The type of kayaking you do will determine the type of outfit you need.
Recreational Kayaking: This typically involves staying in calm waters and typically calls for a bit more warmth than white-water kayaking. Go with some type of neoprene top, bottom, and shoes, a good life vest and waterproof jacket or wraps. Choose skirts or trousers with adjustable closures at the waist and ankles to prevent water from entering your pants while paddling.
White-Water Kayaking: Here you'll require more toughness in your outfit as you'll be exposed more to rapids and waves, so wear specialized kayak clothing such as neoprene shorts/jumpsuit, sealed seams to keep out water from entering, double overlapped construction for added protection and durability. If it's cold out make sure you pair it up with a wetsuit top for full body coverage. Do not forget a life vest too!
Ocean / Surf Kayaking: Here the conditions can be quite different than recreational or whitewater kayaking, so rock solid protection is required if things get wild. Wear specialized ocean or surf paddle wear such as quick dry board shorts with knee pads (short wearing are preferable) tops with mesh panels for fast dry paddling long sleeve rash guard shirts/jackets that fit tight; water booties; reinforced gloves; hood hat/cap; personal flotation devices, like an inflatable belt pack; helmet; buoyancy aid where needed; hand guards to prevent blisters because of strong winds on the coastal beach sea side kayaks may encounter seaweed and other mud into which they may wade for support shoes made for wet sand'ing (such as Run offs).
What do You Wear For Kayaking
Warm weather kayaking calls for light, comfortable clothing. Making the right choice of clothing is important – not only will your clothes keep you comfortable and out of the sun, they can also keep you safe should you capsize. Remember to choose quick-drying fabrics and to avoid cotton. When it comes to clothing layers, it's best to dress in multiple thin layers instead of one bulky piece of clothing so that it allows you to add or remove items as needed. You could opt for a lycra-style base layer that provides UV protection and stretch in addition to fishnet undershirts. For your next layer, choose an item such as a short-sleeved shirt or fleece zip-up if the weather is cooler. The last layer should be breathable and waterproof with a splashproof top; this could include a life jacket, spray skirt or drysuit pants depending on how much protection you need from the elements.
Another important piece of clothing is footwear; appropriate shoes are vital in providing grip on boats and preventing slips when entering or exiting them – sandals are not recommended! Take into consideration any obstacles or terrain that you may encounter in order to decide between an open shoe such as aqua socks and closed designs like sports shoes or permanent neoprene kayak boots their respective advantages and disadvantages but all should provide good grip on boat surfaces. Lastly, don't forget sun protection essentials like sunglasses, hats and sunscreen for long days out on the water!
Clothing For Cold Weather Kayaking
Kayaking is an enjoyable outdoor activity, but cold weather can often make it uncomfortable. To stay warm and safe while kayaking in cold temperatures, it's important to wear the right type of clothing. Here are some tips on choosing the best cold-weather apparel for your next kayaking adventure.
Base Layer: Wicking base layers such as merino wool or synthetic fabrics are ideal for helping to regulate body temperature. They help move moisture away from your skin, so even if you sweat a lot or fall into the water, you won't get too cold or clammy. Look for a snug fit and make sure the material is breathable — that means lots of tiny holes to let the air flow through and keep your body temperature even.
Mid Layer: Insulation is key in colder temperatures; opt for a mid layer that offers warmth without being too bulky. For example, fleece pullovers are great for keeping heat close to your body and have enough give so you're not restricted during movement. If you're paddling in icy conditions or tend to get cold feet easily, consider investing in a pair of neoprene socks — they slip right over your sneakers and help keep those toes nice and toasty!
Outer Layer: Your outer layer should be waterproof yet breathable — ideally with taped seams (the stitching isn't watertight) — so that wind and rain don't penetrate it but sweat vapor can escape from your body. Many kayakers like Drysuits because they offer full-body protection from chilly temperatures and unexpected waves; these consist of two pieces — pants with attached boots or gaiters, and a top which includes sealed seams around wrists and ankles. For milder days when staying dry isn't such an issue (as long as you don't end up falling into the water!), opt for a windproof jacket with hood as well as neoprene gloves particularly designed for kayaking (regular gloves may get too bulky when wet).
Remember to always dress in layers so that when temperatures rise during exercise, you can simply remove items until you reach comfort level again — this will also prevent injury due to overheating or excessive perspiration! And lastly, don't forget sunscreen! Although cloud cover may obscure the sun's rays, UV rays can still penetrate light fabric clothing just as easily as on sunny days; having sunburn is definitely not fun after a paddle session!
Kayak Footwear
When kayaking, having the right footwear can make for a more comfortable and safe experience. Different types of kayak shoes are available to suit the type of water activity you are engaging in.
For flat water paddling, such as on a lake or slow-moving river, open shoes such as water sandals or aqua-socks are suitable. These shoes keep your feet secure in the kayak and provide good contact with the foot pedals. Closed-toe sandals or beach shoes offer extra protection to your feet while you paddle and reduce the risk of injury from any debris in the water.
For whitewater kayaking, a secure fit with maximum traction is important. Since you might be spending time upside-down during tricks or maneuvers, it's important that your feet stay firmly attached to the foot pedals of your kayak at all times. Neoprene booties are a good option for these activities as they not only provide great grip but also keep your feet warm when it gets cold on the river!
Accessories For Kayaking
In addition to the proper kayaking apparel, there are a few accessories for kayaking that are essential for any kayaker. Wearing a personal flotation device (PFD) is an absolute must-have when paddling. PFDs come in different sizes, styles, and levels of buoyancy to make sure you pick one that's comfortable and fits your specific needs.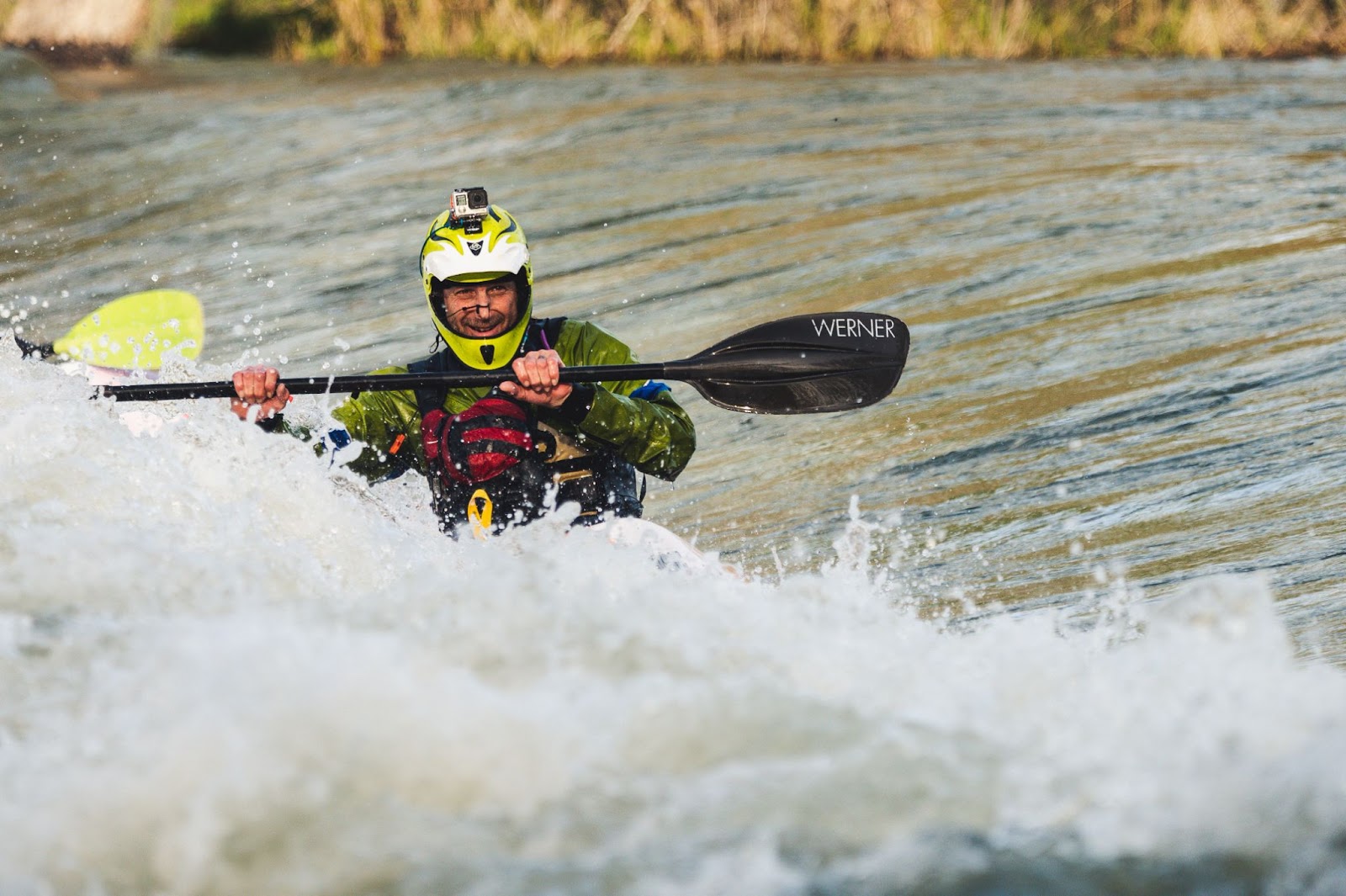 Attaching a whistle and other emergency signaling tools such as flares can be beneficial if ever needed. It's also important to have some kind of way to stay hydrated when out on the water. Waterproof bags or dry boxes are great for storing items like snacks, drinks, and spare clothing.
Lastly, depending on where you plan on paddling, it would be wise to bring along sun protection such as covered hats, long-sleeved t-shirts or rash guards, sunglasses with non-prescription polarized lenses, waterproof sunscreen and insect repellent.
Safety Considerations
Before you head out on the water, make sure you have the right gear to ensure a safe and fun experience. There are some basic common requirements for any kayaker.
Sturdy footwear: To protect your feet from rocks and other hazards, choose closed-toe shoes that provide good grip and ankle support. Sturdy boots or water sport sandals are recommended.
Safety clothing: Non-cotton clothes that dry quickly should be worn to help keep you warm in cooler weather. Several layers of synthetic fabrics will work better than cotton when wet, as cotton tends to become heavy when wet and lose its insulating abilities. A waterproof spray jacket or pants may also be necessary for keeping you dry in windy or rainy conditions.
Helmet: A helmet is an important piece of safety equipment for kayakers who are likely to encounter obstacles such as waterfalls or tree branches in the river. Polypropylene, foam and PVC designs offer different levels of protection that can provide coverage while still allowing freedom of movement.
Life Vest: Inflatable life vests often provide more mobility and comfort than traditional foam versions but any Coast Guard approved life vest should adequately protect kayakers on calm waters where swift currents are not expected.
No matter your kayaking experience level or type of water activity you are participating in, the most important consideration is to dress for warmth and comfort. Make sure to choose clothes that are loose-fitting and provide easy range of motion. Wear a lightweight waterproof shell or rain suit for additional protection against water and wind. A good hat will protect your face and eyes from the sun and provide warmth if temperatures drop during your trip. Lastly, don't forget to wear enclosed shoes while kayaking, such as sport sandals or wet shoes, as exposed feet can quickly succumb to cold temperatures.
With these essential tips in mind, you can stay warm and comfortable on any kayaking adventure!